Armed Forces Veteran Friendly Accredited GP Practice
We are extremely proud of the fact that we are an Armed Forces Veteran Friendly Accredited GP Practice. This means, for patients who have served in the Armed Forces, that we have a dedicated clinician who has specialist knowledge of military related health conditions and veteran specific health services. This is all part of the NHS health commitments of the Armed Forces Covenant.
If you are ex-forces, please let your GP, nurse or reception know in order that you can access the best possible care.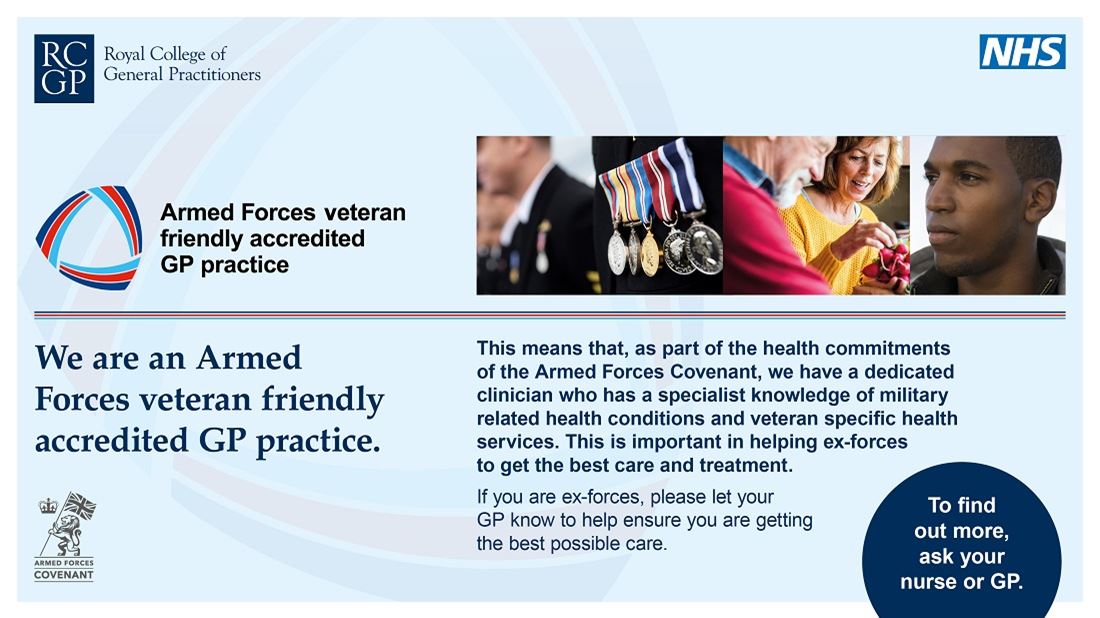 Armed Forces Veteran Services Via NHS
There are a number of services available via the NHS and these include:
Veterans' Mental Health, Transition, Intervention and Liaison Service (TILS)
The TILS is for both serving personnel approaching discharge from the Armed Forces and veterans with mental health difficulties. Help may also be provided with housing, employment, alcohol misuse and social support.
Veterans' Mental Health Complex Treatment Service (CTS)
The CTS is for ex-forces who have military related complex mental health difficulties that have not improved with previous treatment.
Referral to both of these services is via the TILS. As an individual you can self-refer or ask your GP or a military charity to refer you. Contact details are as follow:
South West England, call 0300 365 0300 or email sc.veterans@nhs.net.
Veterans Trauma Network (VTN)
The VTN is the first NHS pathway for veterans' physical health, providing care and treatment to those with a service-attributable healthcare problem.
Prosthetics
The Veterans' Prosthetics Panel (VPP) was established in 2012 as a way of ensuring that veterans can access high quality prosthetics regardless of which Disablement Service Centre (DSC) they attend. This additional funding is available only to veterans who have lost a limb whilst in military service.
Others Armed Forces Veteran Services (non-NHS)
Hearing loss and tinnitus services
The Royal British Legion Veterans' Hearing Fund can be accessed via their website.
Mobility Equipment Support
The Royal British Legion also has a Veterans' Mobility Fund
Veterans' Gateway
The Veterans' Gateway is made up of a consortium of organisations and Armed Forces charities & is a useful point of contact for veterans seeking support.
Contact Armed Forces
Contact is a group of charitable support organisation.
Help for Heroes
Combat Stress
Combat Stress is the UK's leading mental health charity for veterans.
Blesma
Blesma supports limbless veterans to lead independent and fulfilling lives.